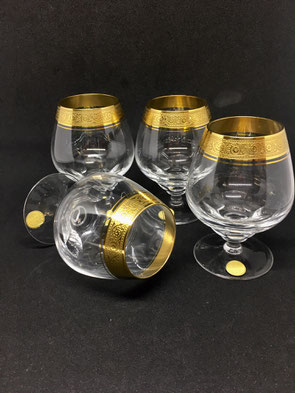 The Theresienthal crystal glass manufactory was founded in 1836 and has quite an impressive customer list: From King Ludwig II., who acquired a complete glass set for his Linderhof castle to the Russian Czar in St. Petersburg, to whom the glasses had to be delivered on foot to avoid breakages. Each glass is manufactured entirely by hand: from the shaping of the glass to its engraving
The brilliant Theresienthal glass has a long tradition. The current collection has been developed by the German designers Peter Kempe and Thomas Kuball based on age-old forms and models. .
The crystal glass manufacturer Theresienthal has been producing mouth-blown glass of a superb quality for more than 170 years. The magnificent glasses and glass accessories are popular all over the world. Their products display traditional handcraftsmanship at its best: sometimes colourful and opulent, on other occasions crystal clear and finely engraved, but always glittering and brilliant.
These paper-thin, mouth-blown masterpieces crafted in the Bavarian Forest are all unique, regardless whether wine goblets and decanters, champagne flutes or water tumblers. Rounding off the repertoire of distinctive vessels is the selection of elegant vases, dishes, flacons and votives.
Theresienthal can look back on a long and successful history in the art of glass blowing. King Ludwig II was one of the early supporters of the refined drinking culture. He ordered glassware for his castle in Linderhof as also did the residents of the tsar's court in St. Peterburg. In recent years, the legendary Theresienthal collection has produced some fresh variations on the centuries-old shapes and patterns. Even the famous colouring methods, such as the Theresienthal's overlay technique continue to be fully developed. Every Theresienthal glass is still completely handcrafted - from the melting of the raw material to the polishing of the crystal glass.